YORK, Pennsylvania– The school must go on.
Even as politicians and parents squabble over the future of the financially and academically distressed York City School District, education continues inside the district's classrooms.
For an hour inside McKinley K-8 one afternoon last week, that education involved two presenters who have mastered the art of getting students to listen.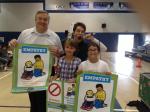 Jeremy Rubenstein and Kyle Masteller are the stars of Box Out Bullying, an interactive assembly they presented to children in kindergarten, first grade and second grade Thursday.
Learning empathy:
Their act — which includes a magical box, flashbacks to family trips and a game show — is based on the Olweus Bullying Prevention Program, an internationally known system developed by a Norwegian doctor.
McKinley K-8 first-graders, from left, Kamren Cuevas, Jenny Gonzalez and Angel Buffington react during an anti-bullying skit by the Box Out Bullying actors at the school Thursday, Oct. 2, 2014. The school introduced York City School District's anti-bullying program Olweus during an assembly for kindergarten, first- and second-graders. The Box Out Bullying crew, from New York City, is touring schools across the country.
There's a big difference between "telling" and "tattletaling," also known as "snitching," Rubenstein told the kids.
Kids who tattle "just want to get someone in trouble," he said.
"Telling, if it gets you or someone else out of trouble, then it's telling," Rubenstein said. "Adults need to know."
Students also learned the meaning of a word many adults don't understand well.
Empathy, Rubenstein explained, "means you know another person's feelings or problems."
Kickoff to Olweus:
The assembly kicked off McKinley students' introduction to the Olweus program, which is also being actively implemented in five other York City schools — Devers K-8, Ferguson K-8, Davis K-8, Goode K-8 and William Penn Senior High School.
The kickoff assemblies are geared to the appropriate age group, Neiman said.

For example, the program for older kids included information on cyberbullying, she said.
District officials have been laying the groundwork for Olweus in York City since last year.
A consistent message:
The idea, Neiman said, is to be more proactive about the bullying problem rather than reactive. Teachers are being trained to spot bullying behaviors, and students are being taught how to deal with them.
Every seven school days, students will spend about 30 minutes talking about bullying and learning "how to treat people," Neiman said.
That's especially important for the kids who fall into the "bystander" category, she said.
Those are kids who see bullying, "want to do something, but just aren't sure what," Neiman said.
Student feedback is also collected through surveys that help staff members identify the types of bullying and severity of the problem in each school.
Neiman said she believes bullying is about as prevalent in York City schools as in any other area.
"Ultimately, it's about giving the students ownership of their school," Neiman said.