Jeremy Rubenstein In Your Area, New Jersey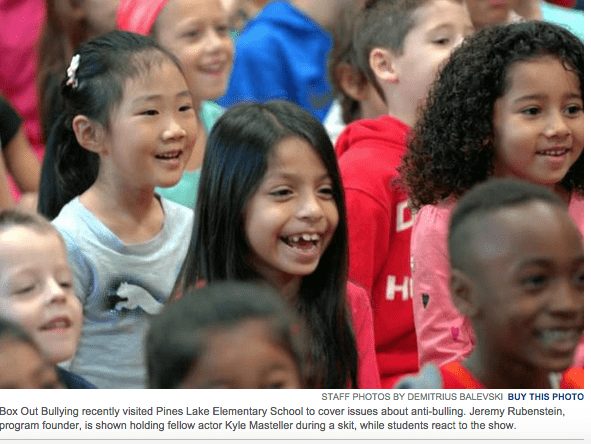 WAYNE NJ – Students at Pines Lake Elementary School were recently entertained by the interactive, award-winning Box Out Bullying prevention program during Respect Week, which is marked throughout New Jersey every year.
Two 45 minute long assemblies were presented, each geared towards respective age groups. Founder of Box Out Bullying, Jeremy Rubenstein, who has a background in early childhood development, said problems and solutions are the same among all areas.
Rubenstein and Masteller entertain approximately 100,000 students annually using live theatre and interactive media. The show at Pines Lake was arranged by Parent Teacher Organization members and cultural arts co-chairs Patricia Altobello and Taryn Glassman.
According to statistics noted in the show, there are approximately 16 million students are bullied across the county, and 160,000 skip school because of it.
The lessons emphasized in the presentation included: don't bully others, try to help students who are being bullied and show empathy,  include students who are feeling left out, and tell an adult at school and at home if you know someone is being bullied.
During the show Rubenstein and Masteller, who are not related, play cousins, "Tom" and "Jerry," who drive home the importance of caring for one and other using a locked box – which the students named "Bob" during the interactive presentation – as the subject being bullied by Tom with Jerry as the do-gooder. Kids from the audience were also chosen to take part in a game show-type segment of the show as well.
"It's about creating a culture that lasts the entire school year by reinforcing positive messages that help to define who we are as a community," said Principal Jose Celis. "But you can't limit it to one week, we should offer positive messages throughout the school year."
Altobello said the same assembly took place last year at A.P. Terhune Elementary School and she heard good things about it so she arranged for the show to come to Pines Lake.
"I thought this was a great presentation. They get the point across while having fun. They did a good job. And the feedback here from our teachers was already positive," Altobello said.
Box Out Bullying was founded in 2008 and tours schools and communities across the country. For more information, log onto www.boxoutbullying.com.
OCTOBER 15, 2015  BY DEBRA WINTERS | STAFF WRITER | WAYNE TODAY