Acting group delivers anti-bullying message
by Jeanette Boos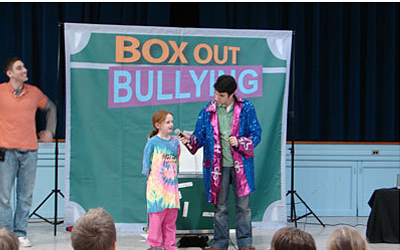 READSBORO – Students at Readsboro Central School were treated Tuesday to a special presentation from Box Out Bullying, a national touring company that specializes in teaching bullying prevention through interactive theater. With slightly different age-appropriate versions, two separate shows were performed during the school day, and another presentation was given that evening for parents, teachers, and community members.
For the students' shows, all eyes were on the skits performed by president and creative director Jeremy Rubenstein as "Tom," and Ryan Nelson as "Jerry," whose lively antics entertained students while simultaneously communicating the message to stop bullying.
Interspersed with laughter and audience participation, the four rules to help stop bullying were conveyed. Rule 1, we will not bully others; rule 2, we will help students who are being bullied; rule 3, we will include students who are left out; rule 4, if we know someone being bullied, we will tell an adult at school and at home.
Students also learned the difference between tattling and telling. Nelson explained, "Tattling is when you're just telling to get somebody in trouble. Telling is to protect someone, and telling takes courage."
Rubenstein said, "I'm no tattletale, and I'm not asking you to be a tattletale. I'm asking you to be a teller."
Nelson also explained the difference between bullying and conflicts. "Conflict only happens once. Bullying happens again and again."
With a message geared toward empowering bystanders, students learned that they themselves are the ultimate answer to solve all bullying.
During the evening's presentation, Rubenstein said that the message to stop bullying needs to be clear and consistent. "We cannot give mixed words, or have a lack of solidarity, or give mixed messages."
He acknowledged that in the real world not everyone is friends with each other but, "That still doesn't mean that we can't be friendly toward one another."
Regarding the older students in fifth- through eighth-grade, Rubenstein told of a 21-question survey that they were given prior to attending the show.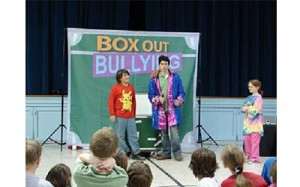 "Data is our friend," he said of the results. One question asked: "How often are you afraid of being bullied?" Zero percent answered "almost always," 35% answered "sometimes," and 60% answered "almost never." Rubenstein said, "This is good by national standards."
Rubenstein also cleared up some misconceptions regarding bullying, saying that bullying is not more likely to happen in middle school than elementary school, but can happen at any time. Also, most bullying is not physical in nature, and is moving away from physical overpowering to other imbalances of power, such as being better at something, or having better social skills.
Rubenstein said, "If a child comes to you, never criticize them, even if you think they went about something wrong. Express concern and warmth, and applaud their courage." He also said that parents should actively involve school officials to help with students' problems. He said, "From my experience, it doesn't work when parents take it upon themselves."
In addition to the presentations, a booklet containing age-appropriate activities and lesson plans was given to teachers to incorporate in their classes. A post-program survey is also available for students to take. Principal Debra Vaughan said, "We're not sure yet what our next steps are." She added that it is not yet determined how the Box Out Bullying program's data may be used.