NORTH WALES, PA – To kick off the Olweus Bullying Prevention Program (OBPP), North Wales Elementary School planned several activities for students and staff members on February 27th. The day began with all students reporting to the school cafeteria to watch a video discussing the effects of bullying, receive an overview of the OBPP program and witness staff members participating in an anti-bullying cheer. Then, from 9:50 to 10:30 a.m., students engaged in classroom meetings and viewed a presentation from Pennbrook and Penndale middle school students.
In the afternoon, students enjoyed a "Box-Out Bullying" assembly. These interactive assembly programs directly align with the Olweus Bullying Prevention Program and empower students by providing a clear definition of bullying, introducing rules that will help stop bullying, creating and building empathy, successfully solving potential problems, identifying bullying behaviors, recognizing the different forms of bullying (direct, indirect, cyber), addressing why bullying is wrong, empowering bystanders, teaching students how to be resilient and much more.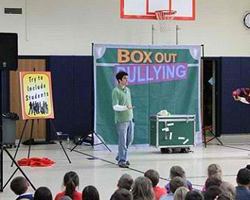 More information about this assembly can be found on the following website: www.boxoutbullying.com.
The culminating activity of the day was the whole school anti-bullying cheer in the school cafeteria and the sharing of classroom banners.
Please click on the following link to see how North Wales Elementary School teachers and students helped to kick off the Olweus Bullying Prevention Program for their school: http://www.youtube.com/watch?v=Xd2eYkvvxWw