I recently spoke with a good friend of mine who is student teaching at a Middle School in Austin, Texas.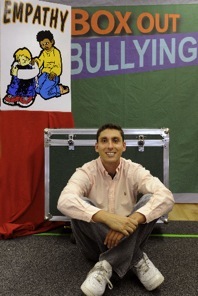 I wanted to know how his first 'gig' in education was going.
He told me that the schools was in a lower socioeconomic neighborhood in Austin, that one of his students was working 20 hours a week to support his Mom.  This is a 12 year old.
But my friend enjoys being in the classroom.  He enjoys being a student teacher.  He is considering going back to school to get his teaching certificate.
As we chatted more, we talked about the school culture, how he couldn't believe the kind of behavioral issues that were commonplace.
"When I was in Middle School, even the worst kid wouldn't do things that an 'average' kid at this school is doing," he told me.
These instances of misbehavior ranged from students throwing paper at each other to throwing punches.
Students wearing hats and hoodies to wearing close to nothing at all.
Students' just leaving the classroom while the teacher is in the middle of the lesson plan, to physically being in the classroom but their concentration is on their cell phones texting, playing candy crush, calling their friends…
"It's not my place as a student teacher to say anything," he continued.  "But happens is you try to reach the ones that are paying attention."
Our goal of preparing all students for college, careers, and civic life cannot be met without first creating safe schools where effective teaching and learning can take place. Simply put, no school can be a great school if it is not first a safe school.
How can we expect to boost student achievement when too many schools are struggling to create the nurturing, positive, and safe environments?
Here are three steps schools can take.
First, take deliberate steps to create the positive school climates that can help prevent and change inappropriate behaviors. Such steps include training staff, engaging families and community partners, and deploying resources to help students develop the social, emotional, and conflict resolution skills needed to avoid and de-escalate problems.
Second, ensure that clear, appropriate, and consistent expectations and consequences are in place to prevent and address misbehavior. By holding students accountable for their actions in developmentally appropriate ways, students learn responsibility, respect, and the bounds of acceptable behavior in our schools and society.
Finally, schools must understand their civil rights obligations and strive to ensure fairness and equity for all students by continuously evaluating the impact of their discipline policies and practices on all students using data and analysis.
This also means relying on suspension and expulsion only as a last resort and for appropriately serious infractions, and equipping staff with alternative strategies to address problem behaviors while keeping all students engaged in instruction to the greatest extent possible.
I've brought the Box Out Bullying presentation to schools all across the country.  I've been on the frontline of this epidemic.  And I've found that the issues and concerns facing our children, are the same.  These issues supersede socioeconomic status, geography, and demographics.  But just like the issues are the same, what I've found is that the solutions are the same, too!
Be well!
Jeremy
Jeremy Rubenstein, President & Creative Director
Box Out Bullying | Box Out Productions