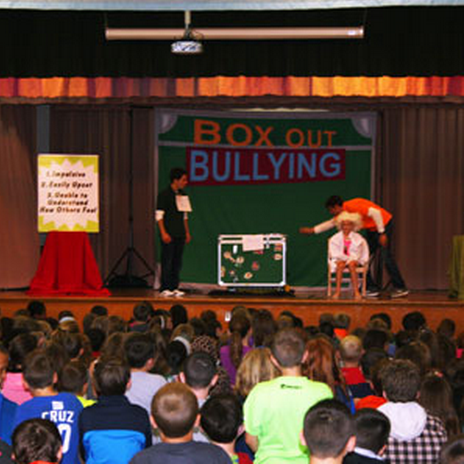 Saratoga County, N.Y.—Schuylerville students in grades 3-5 were treated Monday to a special presentation from "Box Out Bullying," a national touring company that specializes in teaching bullying prevention through interactive theater.
"Kids like to be entertained," Founder and Creative Director Jeremy Rubenstein said. "It's that power of live theater so that you're learning through all modalities of education; whether it's auditory, kinesthetic or visual."
Rubenstein, along with actor Kyle Masteller, performed skits while simultaneously communicating the message to stop bullying. While the students were entertained, they also learned how to identify bullying, how to prevent it and what to do if they see it happening. Students were taught about empathy and the difference between bullying and conflict.
"The performance really went hand-in-hand with the four anti-bullying rules we follow here at Schuylerville Elementary," Guidance Counselor Cassandra Luthringer said. "This was just a different way of getting through to our students."
Through audience participation, the four rules to help stop bullying were conveyed.
We will not bully others.

We will try to help students who are bullied.

We will try to include students who are left out.

If we know that somebody is being bullied, we will tell an adult at school and an adult at home.
Fifth graders Connor (Mrs. Birge's class), Molly (Mr. Duncan's class) and Katie (Mrs. Hart's class) all participated in the skits.
"It was fun," Molly said. "I think everyone will think twice about bullying."
"My favorite part was the whole thing," Katie said.