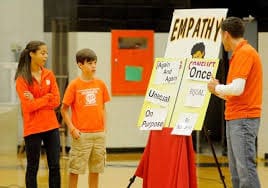 York Middle School eighth-grade students Brittany Rawlinson, left, and Coleman Coxe talk about the difference between conflict and bullying with presenter Jeremy Rubenstein during a Box Out Bullying presentation in the school gym.
Jennifer Becknell

 

news@enquirerherald.com
Students and staff in the York school district wore orange to represent unity against bullying Wednesday, part of a month of special events planned to target the problem.
Box Out Bullying, a traveling theatrical program that defines bullying and explains what students can do, was presented Wednesday to seventh- and eighth-graders at York Middle School.
"Theater is a very effective medium," said Jerry Rubenstein, founder and creative director of Pennsylvania-based Box Out Bullying, which combines research-based bullying prevention with live theater. "We believe theater maximizes the message."
Rubenstein and Kyle Masteller presented a 50-minute interactive program that incorporated humor as it laid out the definition of bullying, talked about what students can do if they see someone bullied or are bullied themselves, and encouraged them to use empathy.
"This is a very serious topic," said Rubenstein, who crated the program in 2008 at the request of school educators. "But we want to make it a celebration of the positive school culture."
The events are part of the York school district's Olweus Bullying Prevention program, which includes classroom meetings, school-wide rules about bullying and other activities spearheaded by the school Bullying Implementation Committees and based on survey data for each school.
A Nov. 21 5K is themed Bigger than Bullying. The 5K was first organized last year by three York Comprehensive High School students who wanted to spread awareness. The project won state honors in DECA for community service and won a National PACER Award last spring. Runners and walkers are welcome.
The bullying prevention program began with a federal grant spearheaded by Sue Hilton, coordinator of counseling services.
For more information on Box Out Bullying, visit boxoutbullying.com.