High school students and staff at Tarrytown Union Free School District experienced the Box Out Bullying National Tour.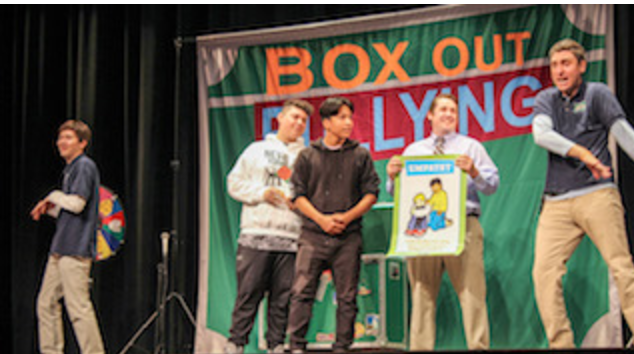 Team members Jeremy Rubenstein and Leonard W. Rose brought the interactive, age appropriate, and theatrical presentation to Sleepy Hollow High School ninth and tenth graders on October 18th as part of their nationwide tour to help students learn ways to end to the bullying epidemic.
The pair, who both have a background in theater and education, presented a high production value show that engaged students by seeing, listening, and doing.   to involve students and teachers, including presenting all with a locked bullying box that could be opened only through learning about the signs of bullying and ways to stop it.

Rubenstein founded Box Out Bullying in 2008 because "There was a real need for it. At the time no one was really addressing it." According to the National Educational Association, approximately 160,000 students miss school due to bullying.
While dealing with a very serious issue, one of the keys to the success of the Box Out Bullying presentation is to make the experience a celebration.  Not only does the assembly presentation use humor to illustrate serious points, it also incorporates specific events used by each school site.
"If we can get them to laugh, we get them to listen," Rubenstein said. The program also tackles cyberbullying, pointing out that mean posts on social media and in texts can cause as much damage as the spoken word or negative actions.
Sophomore Emma Briante enjoyed the presentation saying, "It was great. It was fun. It was informative."