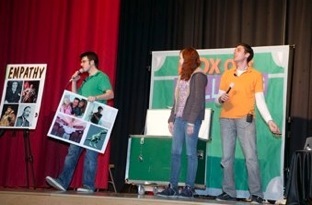 Tottenville students joined actors from Box Out Productions at the assembly performance.
Respect for All Week was filled with important life lessons for students at Staten Island's Tottenville HS where a special bullying-prevention assembly — by the nationally touring interactive theater group Box Out Bullying — was held for all 9th-, 10th- and 11th-graders on Feb. 16. "Motivational messages, comedy, interaction with the audience — Box Out Bullying is entertaining and educational," Assistant Principal Judy Tranchina said. "The students and teachers loved it." The event was hosted by Justine Devoll, a teacher who runs the conflict resolution class for 1,000 9th-graders. "It was great to see students actively engaged in topics that they are confronted with on a daily basis and given positive solutions to their problems," said UFT Safety Department staffer Jeanne Casanovas, who said that Tottenville HS Principal John Tuminaro is a firm believer in assuring a safe learning environment for all students. There were classroom presentations written and performed by peer mediation students and members of the Gay-Straight Alliance. Students and staff sported purple, the school's color, to symbolize school spirit and brotherhood, and the Council for Unity was engaged in bringing the community even closer together. Students and staff all signed "Respect for All" pledges on the school's "Respect Wall." UFT Special Representative Lillian Kohler and Thomas Bennett, the union's BASIS district representative, stressed that respect and tolerance are not just about a week of special events but a commitment to an ideal that requires thinking and planning throughout the school year. Kohler said that's understood at Tottenville. "They are completely dedicated to promoting respect for all without exception," noted Kohler.
Students performed anti-bullying skits in a number of classrooms. With the students are Devoll (left), Bennett (fifth from left, back row), Kohler (fourth from right), Diane Costagliola (second from right) of the Department of Education and Chapter Leader William Goldman (right).