National show comes to middle school to draw attention to the issue
October 14, 2010|By Arlene Martínez, OF THE MORNING CALL
Larry is a nerdy looking short kid who wears ties to school and has a squeaky voice. Bryan is tall and slender, wears shorts and T-shirts, and puts down Larry for being, well, nerdy, short and wearing ties.
Larry's friend doesn't like Bryan putting down Larry so she goes to the principal, who confronts Bryan and Bryan feels bad and apologizes and then they are cool.
If the animated video produced by staff and faculty at Whitehall-Coplay Middle School sounds childish, the message they brought to students Thursday was decidedly not: the importance of not bullying.
It's why the school showed the video during separate 80-minute assemblies for sixth-, seventh- and eighth-graders and brought in a national touring show, "Box Out Bullying."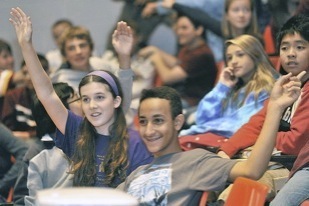 Whitehall Coplay 7th graders Emily Falkenstein, 12, of Whitehall Township (foreground left) and David Labib, 13, of Whitehall Township, raise their hands during anti-bullying skit by Lancaster-based Box Out Bullying, at Whitehall-Coplay Middle School on Thursday.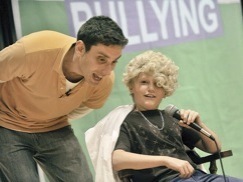 Jeremy Rubenstein, president of Lancaster-based Box Out Bullying, (left) involves Whitehall Coplay Middle Scholl 7th grader Nick Mark, 14, of Whitehall Township, in a anti-bullying skit at Whitehall-Coplay Middle School on Thursday. (Harry Fisher/The Morning Call)
Whitehall-Coplay used a $17,000 state grant to implement an anti-bullying program. This is the second year the middle school has held an assembly to give the matter greater attention. The district last year hired a trainer with the Olweus Bullying Prevention Program to help develop a multi-pronged approach to tackling the issue.
The grant also paid to bring "Box Out Bullying" to hundreds of students, who were riveted by the tale of Tom and Jerry — performed by show creator Jeremy Rubenstein (Jerry), originally of Lancaster, and New York City resident Ryan Nelson (Tom) — and a box Tom wanted to open.
Rubenstein, who has a degree from Penn State in theater and worked in education, created "Box Out Bullying" after educators asked him to look into the topic. He's performed the show all over the country.
With help from the students, Tom and Jerry named the box Sonny. Tom was upset the box was locked and called in his friend Jerry to help open what held the secret to bullying. The two go about searching for answers. Jerry explains Sonny needs empathy to be understood better, and to be treated with more respect.
Students laughed and shouted out answers during the performance, delighting in the antics of the actors.
Spreading the anti-bullying message was a central theme, but so was the importance of being a "defender." Students shouldn't consider themselves tattletales because they report bullying, Jerry said: Standing by and watching while someone is being mistreated isn't an option.
Each day, 160,000 students stay home from school because they want to avoid being bullied, Jerry told the students.
At the end, when Tom has learned lessons about bullying, the box opens.
Seventh-grader Raina Latef, 12, said the show was "awesome." It also hit home. Raina said she was bullied this year.
"People kept calling me names, pushing me around," Latef said. "I just ignored them."
When that didn't work, she did what Box Out Bullying suggested: "I reported it," she said.
She said it stopped.
Nick Abrams, 14, admits to being a one-time bully. He said he harassed another boy, and shoved him into a locker. He said he stopped when he got in trouble. There was a happy ending.
"Now we're best friends," he said.
But that isn't always the case, as recent high-profile cases — including a teenage boy in Texas who killed himself because of homophobic taunts and, in New Jersey, the Rutgers University freshman who jumped to his death after his roommate allegedly posted video of him having a sexual encounter with another man — have demonstrated.
Whitehall-Coplay Middle School officials hope the assemblies hit home with the children.
"I think it was very well-received," said Angela M. Friebolin, an assistant principal at the middle school. "I'm hoping it puts it more in the spotlight."
To find out more information about the show, go to https://www.boxoutbullying.com