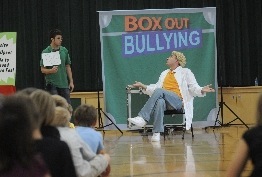 READING, PA – The kids, sitting cross-legged in the gym at Twin Valley Elementary Center, spent most of their time laughing at the antics of Tom and Jerry.
No, not the iconic cartoon characters, but a Lancaster-based acting duo who are on a nationwide tour to tackle the issue of bullying in schools.
Tom, played by Ryan Nelson, and Jerry, played by Jeremy Rubenstein, hammed it up for the kids on Tuesday.
But along with their silly antics, such as dressing up like Philadelphia Eagles coach Andy Reid, and their exuberant stage presence, Tom and Jerry got their anti-bullying message across.
"That was fun," said Ellie Norton, a 7-year-old who got to participate in a skit during the show.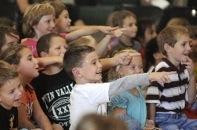 The message that Tom and Jerry brought was simple: Tell an adult when bullying occurs and make other students feel welcome.
"Ignoring the problem will not make it go away," Rubenstein told an assembly of kindergarten, first- and second-grade students.
Rubenstein, who designed the program, "Box Out Bullying," two years ago, came to Twin Valley Elementary to talk with kids about how to identify bullying, how to stop it and how to make others feel welcome.
While many might think that bullying is only a problem for older students, the issue does arise in the elementary grades, said Susan Randazzo, a guidance counselor at Twin Valley Elementary.
Because the school is focused on making every child feel welcome, administrators decided to bring in "Box Out Bullying" to draw more awareness to the issue. Money for the assembly was paid through a donation from the Twin Valley Education Foundation, she said.
"It starts at an early age with name-calling and can escalate," Randazzo said. "You want to teach kids empathy, and how to use words to solve problems."
Rubenstein, who studied theater and journalism at Penn State, started formulating the ideas for "Box Out Bullying" in 2008 and wanted to use his background to help educators find a fun way to get the message across to kids.
Everyone who went through school has a story about bullying, Rubenstein said. And the issue can go beyond hurt feelings. More than 160,000 kids each year skip school regularly because of taunting and teasing, he said.
The best way to change the behavior is to teach kids at a young age about why bullying is a problem, Rubenstein said.
"Bullying is a community problem," he said. "It has to be a communitywide solution."