Respect For All in New York City Schools
Respect for All isn't just one week in February; it is also a permanent initiative at our schools.
The year-round initiative prevents students from bullying on the basis looks or perception.  It is the responsibility of the entire school community—faculty, parents, and fellow students—to make sure that all children are treated respectfully and feel safe in their environment.
Let Box Out Bullying do the hard work for you.  Call us today to schedule our interactive assemblies for students, our parent workshops, and our faculty development programs.  Box Out Bullying's interactive, age-appropriate, theatrical student assemblies and parent workshops teach everyone how to identify, respond to, and prevent bullying.
"The kids were enthralled the whole time, from the Kindergarten to 8th grade.  Box Out Bullying was a super way to kick off our schoolwide Respect For All program."
"The Box Out Bullying parent workshop and student assembly were AMAZING!  My parents and students were given fantastic tools to model Respect For All at home.  Students mimic those they love, and we all love Box Out Bullying "
"Box Out Bullying was wonderful, we can't wait to see you next February for our RFA week!"
Don't wait for Respect For All Week in February to do something now  
Bullying prevention and respect doesn't start and stop with children.  
Parents need to understand how to identify bullying and the importance of respect.  Box Out Bullying offers workshops and presentations to parents where we discuss just that.  Bring your school community one step closer to being completely bullying-free.
Box Out Bullying offers faculty and professional development programs that will help train staff members.  Get your staff on the same page concerning bullying-prevention and classroom management.  Our interactive workshop for faculty and administrators stops bullying in four easy steps.  You'll find easy-to-use lessons and activities that can be incorporated into daily lesson plans designed to successfully address potential problems, empower the bystander, and create empathy among students.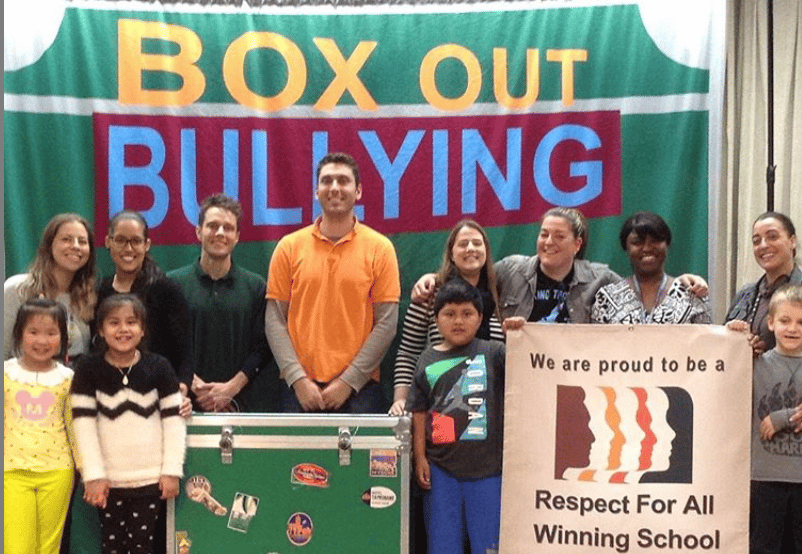 "Fantastic!  I have worked in the school for five years, and this was the best program I have ever brought in!"
"Box Out Bullying was AWESOME…the best assembly of the year!"
"Our kids learned more in one hour of Box Out Bullying than a whole year of character ed classes."
Please see below for a sample of New York City Schools that have brought the Box Out Bullying Experience to their school communities.
Manhattan
District 1
The Children's Workshop School
The East Village School
PS 34 The Franklin Roosevelt School
District 2
PS 41 The Greenwich Village School
PS 262
PS 442 Ballet Tech
PS/IS 276
District 3
The Global Learning Collaborative
New York French American Charter School
PS 241 STEM Institute Of Manhattan
District 4
PS 108
MS 377 The Renaissance School of the Arts
District 5
Harlem Children's Zone Promise Academy II CS
P.S. 123 Mahalia Jackson
District 6
PS/IS 187 Hudson Cliffs
PS 8
PS 5 Ellen Lurie School
PS 189
IS 528 Bea Fuller Rodgers School
Bronx
District 7
MS 224
The Bronx Charter School for Children
Family Life Academy Charter School III
Brilla College Prep Charter School
PS 25 Billingual School
MS 298
PS 277
District 08
PS 371 Urban Institute Of Mathematics
PS 333 The Longwood Academy of Discovery
Ichan Charter School 7
PS/MS 71 Rose E. Scala
PS 140 The Eagle School
PS 138 Samuel Randall
PS 140 The Eagle School
Bronx River High School
PS 48 Joseph R. Drake
District 09
PS 132 Garret A Morgan
Bronx Works PS 42 Claremont
Icahn Charter School 1
Bronx Works PS 313
PS 63 Authors Academy
IS 117 Joseph H. Wade
District 10
PS 24
PS 45
PS 386 School For Environmental Citizenship
PS 205 Fiorello LaGuardia
Luisa Pineiro Fuentes School of Science and Discovery
PS 226
PS 33 Timothy Dwight
PS/MS 279 Captain Manuel Rivera, Jr.
The Bronx School For Young Leaders
The Angelo Patri Middle School
District 11
PS 116
PS 16 The Wakefield
PS 21
PS 68
PS 96
PS 160 Walt Disney
P.S. 108 Philip J. Abinanti
PS 97
PS 178 Dr. Delman Waksman
District 12
PS 66
PS 214 – The Lorraine Hansberry Academy
PS 196 The Literacy And Arts Academy
Children's Aid College Prep Charter School
District 75
Brooklyn
District 13
Community Partnership Charter School
PS 54 Samuel C Barnes
District 14
MS 577
PS 34
Brooklyn Arbor Elementary School
District 15
MS 136
PS 38
PS 32 Samuel Mills Sprole
PS 261 Philip Livingston
PS 676 Red Hook Neighborhood School
P.S. 15 Patrick F. Daly Magnet School of the Arts
District 16
MS 534
PS 262
Brooklyn High School For Law And Technology
Excellence Boys Charter School of Bedford Stuyvesant
District 17
PS 12
PS 167
PS 191
PS 289
Parkside Preparatory Academy
District 18
PS 114 Ryder Elementary
PS 66
Leadership Prep Canarsie CS
PS 235
District 19
JHS 218
PS 214
PS 224
School for Classics an Academy of Thinkers, Writers, and Performers
PS 214 Michael Friedsam
East New York Elementary School Of Excellence
Hyde Leadership Charter School
PS 13 Roberto Clemente
PS 306 Ethan Allen
District 20
PS 682
PS 971
PS 200 Benson School
PS 247 Brooklyn
PS 185 Walter Kassenbrock
PS 186 Dr. Irving A Gladstone
PS 204 Vince Lombardi School
PS 127 The McKinley Park School
JHS 259 The William McKinley School
District 21
PS 101
PS/IS 226 Alfred De B. Mason
Ps 216 Arturo Toscanini School
PS 95 The Gravesend
PS 216K Arturo Toscanini
PS 99 Isaac Asimov
District 22
MS 890
PS 315
PS 139 Alexine A Fenty
PS 251 Paerdegat
P.S. 254 Dag Hammarskjold School
PS 152 School Of Science & Technology (Recommendation)
PS 236 Mill Basin
PS 245
Brooklyn Ascend Middle School
MS 890
PS 164 Caesar Rodney
District 23
IS 392 The School For The Gifted & Talented
Achievement First Brownsville Charter School
PS 631
PS 150 Christopher
District 32
Alejandrina Benitez de Gautier School (PS 377)
Queens
District 24
PS/IS 49 The Dorothy Bonawit Kole School
Joseph F. Quinn Intermediate School 77
PS 103 Bayview
PS 128 The Lorraine Tuzzo, Juniper Valley Elementary School
PS 143 The Louis Armstrong School
PS 307
PS 110
PS 24 Andrew Jackson
Corona Arts & Sciences Academy
PS/IS 102 Bayview
IS 119 The Glendale School
District 25
PS 129

P.S. 242Q, The Leonard P. Stavisky Early Childhood School



PS 169 The Bay Terrance School
PS 29
IS 237 Rachel Carson
District 26
PS 188
PS 26
PS 41
PS 205 Alexander Graham Bell
PS 115, James J. Ambrose School
District 27
Village Academy
MS 210
PS 123
PS 51
PSMS 114
Knowledge and Power Preparatory Academy VI
PS/MS 114 Belle Harbor
PS/MS 207 Rockwood Park
PS 253
Peninsula Preparatory Academy Charter School
JHS 202 Robert H Goddard School
District 28
PS 139 Rego Park
PS 144 Col Jeromus Remsen
Queens Collegiate HS
J.H.S 217 Robert A. Van Wyck
J.H.S 157 Stephen A Halsey
PS 101 School In The Gardens
MS 358
District 29
PS 268
PS 131
PS 134 Hollis
PS 35 The Nathaniel Hawthorne School
Merrick Academy – Queens Public Charter School
Queens United Middle School
PS/MS 147 The Ronald McNair School
District 30
Staten Island
District 31
PS 18 John G. Whittier
PS 19 The Curtis School
Tottenville High school
PS 18
PS 4
PS 55 The Henry M. Boehm School
PS 41
PS 31 M. L. Lindemeyer School
PS 59 Harbor View School
Ps/I.S 25 South Richmond High School
Independent Schools
Charter Schools
Catholic Schools
Jewish
Solomon Schechter School Of Queens
Lutheran 
Rainbow Christain Preschool & Kindergarten
Greek Orthodox
Saint Demetrios Preparatory