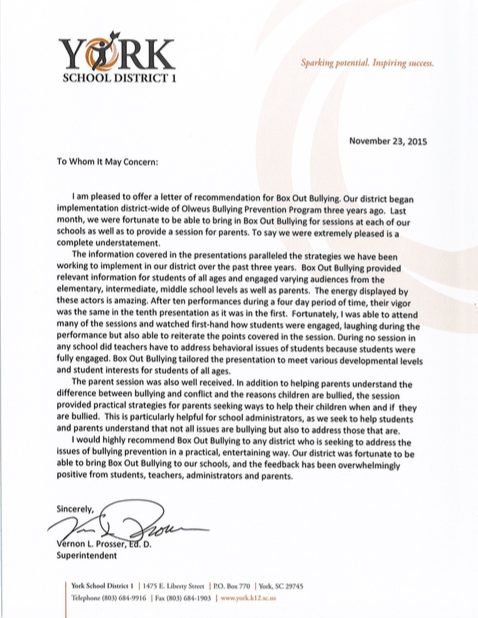 To Whom It May Concern,
I am pleased to offer a letter of recommendation for Box Out Bullying.  Our district began implementation district-wide of the Olweus Bullying Prevention Program three years ago.  Last month we were fortunate enough to bring in Box Out Bullying for sessions at each of our schools as well as provide a family engagement workshop.  To say we were extremely pleased is a complete understatement.  
The information presented in the presentation paralleled the strategies we have been working on in our district.  Box Out Bullying provided relevant information for students of all ages and successfully engaged varying audience levels from elementary, intermediate, and middle school, as well as parents.  The energy displayed by these actors is amazing!  After 10 performance during a four day period of time, their vigor was the same at the tenth performance as it was the first.  Fortunately, I was able to attend many of the sessions and watched first hand how the students were engaged, laughed, but also relate to the key points of the presentation.  Box Out Bullying tailored the presentation to meet various developmental levels of student interests for all levels.  
The parent session was also well received.  In addition to helping parents understand the difference between bullying and conflict, the session provided practical strategies for parents seeking ways to help their children.  This is particularly helpful for school administrators, as we seek to help students and parents understand that not all issues are bullying, but also to successfully address those that are.  
I would highly recommend Box Out Bullying to any district that is seeking to address the issues of bullying prevention in a practical, entertaining way.  Our district was fortunate enough to bring Box Out Bullying to our schools and the feedback has been overwhelmingly positive from students, teachers, administrators, and parents.  
Sincerely,
Vernon Prosser, Ed.D
Superintendent York School District 1