Kick-off your Olweus Program with Box Out Bullying
The Olweus program is the most researched and well known bullying prevention program to date for elementary, middle, and jr. high schools.
Box Out Bullying's interactive, theatrical student assemblies are adapted to be age-appropriate for lower level elementary, upper level elementary, middle school, and jr. high school students, making our programming perfect to kickoff or jumpstart the teachings of Dr. Dan Olweus at your school!
The Olweus Program
Schools around the world have turned to the teachings of Dr. Dan Olweus as an effective solution to sustain comprehensive bullying prevention in their school communities.
The program works at three levels: the school level, the classroom level, and the individual level.
School Level
Give simple tools students can use to help someone in a bullying situation in various school hot spots.
Classroom Level
Reiterate your classroom's 4 rules against bullying.
Provide dynamic activities and lesson plans that will be perfect for your classroom meetings
Individual Level
Ensure that students and parents are given structure and logical consequences, so bullying prevention becomes part of the everyday culture of the school.
The Olweus program is both a SAMHSA model program and a Blueprint for Violence Prevention program. In addition to improving school climate, classroom climate, and overall school attitudes, it has been found to significantly reduce and prevent acts of bullying as well as reducing instances of truancy and substance abuse.
The Olweus program and Box Out Bullying perfectly complement each other and reinforce the messages of your school's bullying prevention program!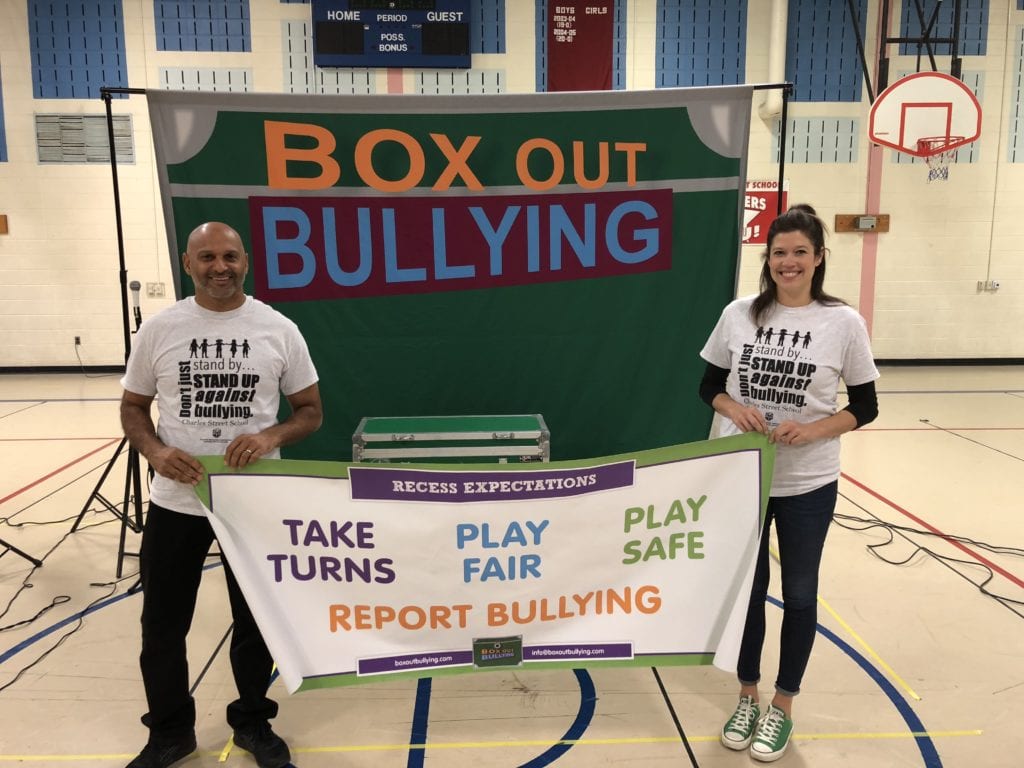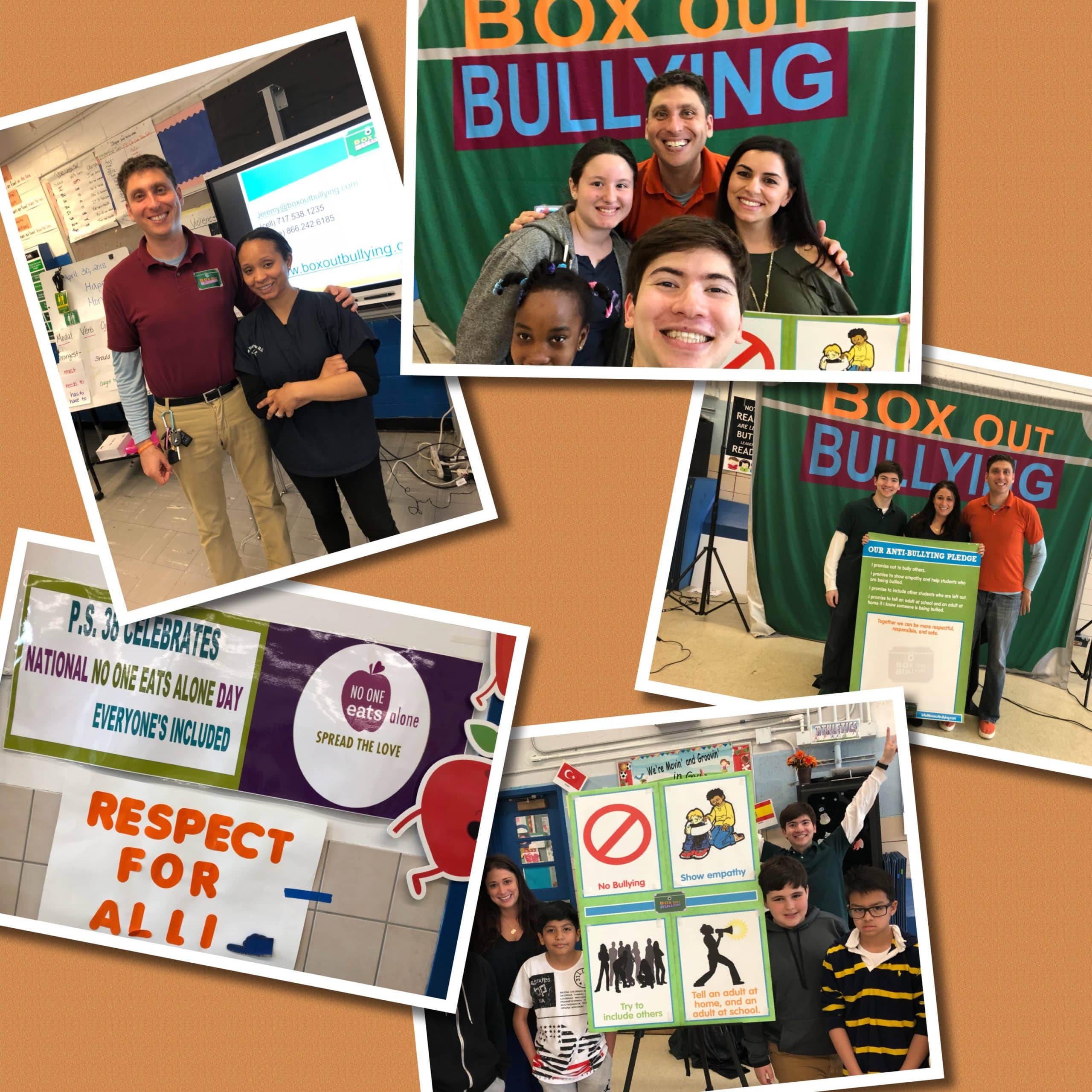 "Our district began the implementation of the Olweus Bullying Prevention Program 3 years ago.  We were fortunate enough to bring in Box Out Bullying.  To say we were extremely pleased is an understatement… Read More (PDF Download) 
"I overheard my students whispering, 'they know the same four rules that we do about bullying!' Yes!  Everyone appreciated how Box Out Bullying goes hand-in-hand with the Olweus Bullying Prevention Program."
"As a kickoff assembly for our schools bullying prevention program, I could not have imagined a better program to start us off!
What is Bullying?
There are three criteria that distinguish a situation of conflict, misunderstanding, or disagreement from a situation of bullying.
Bullying is an aggressing, proactive behavior that happens:
On Purpose
Repeated over time
In an imbalance of Power
In order for a situation to be considered bullying it must exhibit all three of these criteria.
For older students, we use the explanation:
"Bullying is when a stronger person hurts, or frightens a less strong person, again and again. And that person who is being bullied cannot easily defend themselves."
For students in Pre-K you could use this as your definition:
"Bullying is when someone is mean to someone else many, many times."
Which roles do People Play In A Bullying Situation?
A main focus in the Box Out Bullying program is bystander empowerment.  We aim to turn students who would see bullying and do nothing into students who would see bullying and try to take action to help stop it.  

For students in grades 3 & up, we use the specific terminology of Dr. Dan Olweus to address the roles of the:
Bystander

Disengaged Onlooker

Possible Defender

Defender
For students in lower level elementary we will demonstrate the difference between Rough & Tumble Play vs a bullying situation, Telling vs Tattling (snitching) and much more.  
Let Box Out Bullying support your existing efforts on bystander empowerment, parent involvement, and more!
Box Out Bullying has successfully kicked off OBPP in these School Districts:
Madison County Public Schools
North Penn School District
York School District I
Indiana Area School District
Montgomery County Public Schools
North Pocono School District
Forest Hills School District
The School District of Lancaster
Albert Gallatin Area School District
New Rochelle School District
Platte County R-Iii School District
Palmyra Area School District
Monroe Township Public Schools
Athens Area School District
Baldwin-Whitehall School District